The club has policies designed to protect the safety of everyone using the facilities. It is the responsibility of club members to know and follow the club rules and regulations. This page contains some of the policies that every member should know. Copies of the Constitution, Bylaws and Rules & Regulations can be picked up at any montly Member's meeting.
We make every attempt to keep the web site up to date and place notices at the affected club locations. The bulletin board (located at the main entrannce to the club house) contains up to date information.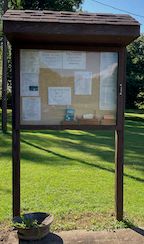 The club and grounds are open from 5am - 11pm. Exceptions are allowed for approved scheduled events.
All members must display their current membership card, at all times, while on club property.
The club has a policy on motorized vehicles on the property.
For more information please request a copy of the policy at any meeting.
Generally, the policy applies to persons under the age of 18 driving motor vehicles without a license.
It also applies to children under the age of 12 operating off road vehicles without parent or legal guardian supervision.
Please obtain a copy of this policy at the next meeting night.
Alcohol consumption is strictly forbidden at any of the ranges, at any time. Violators will lose their membership and be asked to leave the property.
All tree stands on club property MUST be clearly tagged with "Members Name & Phone Number".
In an effort to be fair to all members:
TREE STANDS FOR MEMBERS NEED TO MARKED AND A LIST OF LOCATION MUST BE NOTED IN CLUB HOUSE.
No tree stand is to be erected that will damage any trees or property.
Freeport Sportsman's Club Inc. is not responsible for any tree stands on our property.